Durack Campus - City Campus - Gold Coast Campus
Message from Founder & Administrator
In the name of Allah the beneficient the most merciful. Peace and blessings of Allah be upon our beloved Nabi (Sallallahu Alaihi Wasalaam). We thank Allah Subhanhutallah for enabling us to continue to serve the community. When we look back over 10 years of achievement, we have come a long way. Alhamdullilah. Despite many challenges and difficulties we have advanced in many fields. The college has been conscious of the great need to improve communication with parents and the community at large in order to encourage and enhance team spirit and motivation. I would like to take this opportunity to convey my heartfelt thanks and gratitude to the parents for their hard work and support, for their great patience and their trust in AIIC. They have continued to remain committed to the school through the good times and the challenging ones. It is our commitment that we will continue to work to the best of our ability to respect and discharge that trust and we are grateful for their on going support.
READ MORE.
Imam Abdul Quddoos Azhari Speeches
HERE.
12th Annual College Fete – Saturday 30 August 2014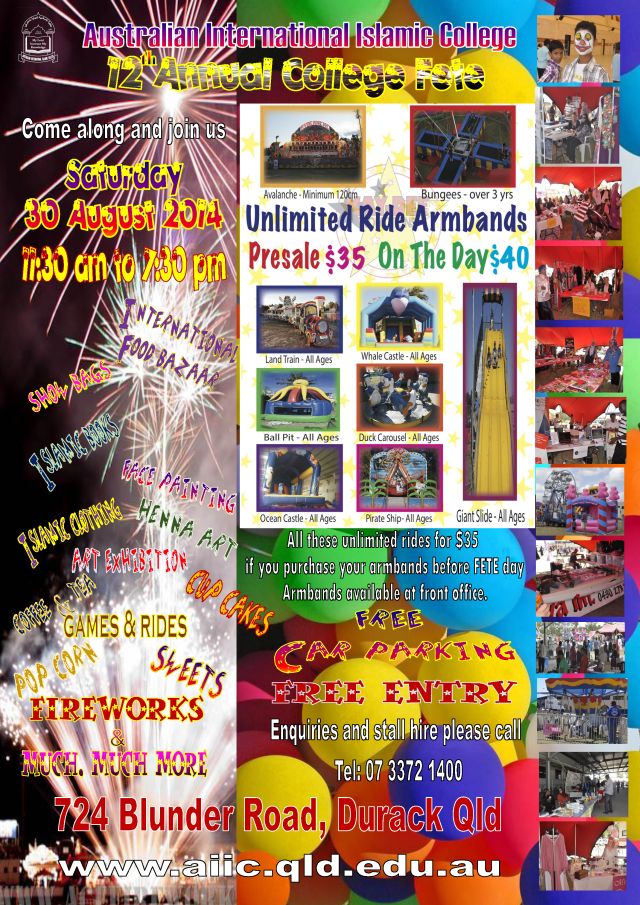 Would you like to be a stall holder? We invite you and your organization to participate and take advantage of this great opportunity. CLICK HERE TO DOWNLOAD THE STALL HOLDER APPLICATION FORM.
Campus News